عکس‌ های یک جهانگرد آمریکایی از ایران

 در فهرست کشورهای مورد علاقه گردشگران آمریکایی، ایران شاید یکی از کم طرفدارترین کشورها باشد. اما نه برای هر گردشگري. برای برندون استنتون، عکاس آمریکایی ساکن نیویورک، ایران انتخاب اول بود. او با دوربین اش به ایران رفت و خارج از قیل و قال جنجال های سیاسی تصویری متفاوت از آنچه این روزها در رسانه ها از ایران می بینیم ثبت کرد
براندون استنتون عکاسی نیویورکی است. عکس‌های او یک ویژگی ساده، اما مهم دارند: مردم عادی موضوع عکس‌های او هستند
اسمی که روی کارهایش گذاشته است هم از همین جا می‌آید: آدم‌های نیویورک
او باکی ندارد که جلوی رهگذرها بپرد و از آنها بخواهد که سوژه عکس‌هایش شوند
صفحه فیسبوک او، که عکس‌هایش را در آن منتشر می‌کند، بیش از نیم میلیون عضو دارد
https://www.facebook.com/humansofnewyork
با وجود این که اسم کارهایش "آدم‌های نیویورک" است، حالا دامنه مردمانی که مقابل دوربین او می‌ایستند تا شیراز و اصفهان و تهران هم رسیده است
او گفته که انگیزه‌ای سیاسی از سفر به ایران نداشته و فقط می‌خواسته زندگی روزمره مردم را به تصویر بکشد
مهمان‌نوازی ایرانی‌ها برای او یکی از جالب‌ترین ویژگی‌های رفتار مردم بوده و می‌گوید که در ایران عجیب‌ترین چیز برای او این بوده که هیچ چیز عجیب نيست
براندون استنتون می‌گوید کارش با ایران تمام نشده است

عكسهاي براندون را ميتوانيد در لينك زير ببينيد

http://irannews24.ir/details/12704/politics


 
Rose Water Festival in Kashan, Iran 
Every year during second half of May or first half of June, Qamsar, Niasar and Barzook cities situated about 20 km from Kashan - 220 km south of Tehran-  hold a festival called Golabgiri. During this ceremony rosewater is extracted from a type of Rose known as Mohamadi Rose with pink petals and a sweet scent.
The Ceremony of Rosewater Distillation (Golabgiri), flower picking (Golchini) and extraction of rosewater, starts when rose buds begin to open, usually mid May to early June. Distillation is carried out immediately after picking. Copper pots are used for distillation and it takes sometime around four up to eighteen hours depending on the size and capacity of the copper pots. This event attracts many visitors from all over Iran . According to Kashan Cultural Heritage office, in 2012 about 150 thousand tourists entered the city of Kashan on June 17th and 18th to join the festival. Every year Kashan sends its pure rose water to the holy city of Mecca that is used to wash Ka'ba. The rose water is sent to Mecca for the first day of Shaban when Ka'ba is ceremonially washed with.  
The extracted rose water can be used for various purposes from making perfume to cooking or making refreshing drinks. Rose water is used to scent some famous Iranian desserts like Sholezard (made of rice and saffron), Baqlava (a famous Iranian sweet), and saffron ice creams. Many Iranians believe rose water has other numerous benefits; traditional Iranian women used rose water for facial and skin treatment. Rose water was also used as a facial cleanser. Some use rose petals as face masks as it was believed to reduce wrinkles and tighten skin pores.  Recently researches have shown that rose water has anti-septic and anti bacterial quality. 
Iranian Red Wednesday Festival : 19 March 2013



In the evening  before the last Wednesday of the year (before Nowrouz) , Iranians in all over the world, celebrate Char-Shanbeh Suri. The word Char-Shanbeh means Wednesday and Suri means red. This exciting festival starts in the early evening.
The main event of Char-Shanbeh Suri is the setting of bonfires. Adults and children gather in the street to jump over the flames to sing, and celebrate the renewal of life. While jumping the flames, people chant : "Sorkhi-e to az man. Zardi-e man az to." The literal translation is, "Your fiery red colour is mine and my sickly yellow paleness is yours."   The fire is believed to burn out all the fear (paleness) in their subconscious or their spirit, in preparation for new year.Young people, children and everybody who are seeking fun run through the streets banging on pots and pans with spoons. This is called Gashog-Zani or spoon banging, and ushers out the last unlucky Wednesday of the year. They also go to their neighbours, knock on doors and ask for treats, a tradition very similar to Halloween.
There is no religious significance attached to Chahar Shanbeh Suri and it serves as a cultural festival for all Iranian Jews, Muslims, Armenians, Turks and Zoroastrians.
This ancient festival has been celebrated for thousands of years ever since the birth of the Zoroastrian religion in Persia.
......................................................................................................................................................................................
Iran Unveils Third Largest Carpet in the World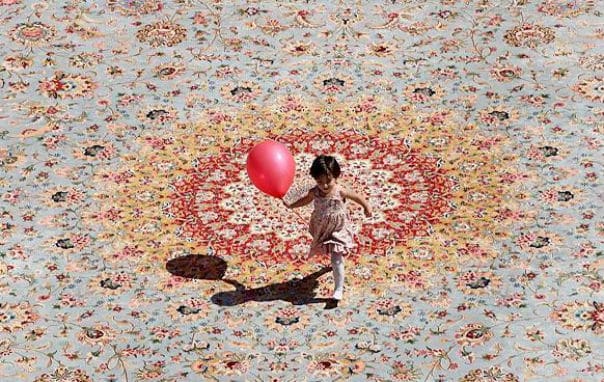 It took 400 skilled weavers and almost a year and a half of work for this masterpiece to be created. The third largest Persian rug in the world was finally unveiled at Tehran's International Fairground. Glowing with vivid colors and fine detailed patterns , the 3.2 million dollar rug is a feat of contemporary craftsmanship. But its design, rooted in a tradition over 2,500 years ago, still holds the romance of its antique counterparts.
"It's very traditional," says Nazmiyal's Omri Schwartz. "This carpet resembles the designs of the famous Ardabil carpet."
Dating back to the 1530's, the Ardabil carpet was originally made for the shrine of Shaykh Safi al- Din Ardabili, a spiritual figure from Northern Iran. The Ardabil design is composed of a medallion surrounded by a ring of oval shapes, similar to the style woven throughout Iran's new carpet. Commissioned by the country of Oman, this rug will also have a spiritual home in the Amin Mosque in Muscat.
The unveiling of the third largest Persian rug in the world marks a momentous moment for Iranians. Iran is home to an estimated 1.2 million carpet weavers. Since ancient times, the tradition of carpet weaving has been a significant aspect of the Iranian culture. Aside from oil, Iran relies on carpet exports as a means of income. More than five million square meters of carpet are sold each year both domestically and internationally. The country takes pride in the distinguished work, a manifestation that they will never be lost.